Overview
The number one priority is always the patient and Dr. Moore and his staff always take the time to listen to you, answer any questions and explain everything. Dr. Moore likes to make people comfortable and to make it easy for them to be in the office.
Staff
Dr. Moore's team has a wonderful team of competent and friendly administrative staff, hygienists and dental assistants, who for the most part have been working with him for several years. Dr. Moore's team consists of:
From left to right:
Christy Priebe, Scheduling Coordinator
Rebecca Archer, Dental Hygenist
Cassy Moore, Financial Coordinator
Dr. Moore
Sandra Baell, Office Manager
Kristi Arnett, Dental Assistant
Deborah Wheeler, Dental Hygienist
Office
You will feel immediately welcome in our office. We offer a full range of general and cosmetic services in a clean, relaxed and aesthetic environment.
Dentist's Website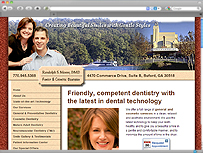 Dr. Moore is highly trained and experienced and can fulfill most of your dental needs, including Invisalign, dental implants, one-visit crowns, root canals and TMJ treatment.
Learn more about Smile Moore Dentistry